Saturday, March 28, 2020 / by Evelyn Lopes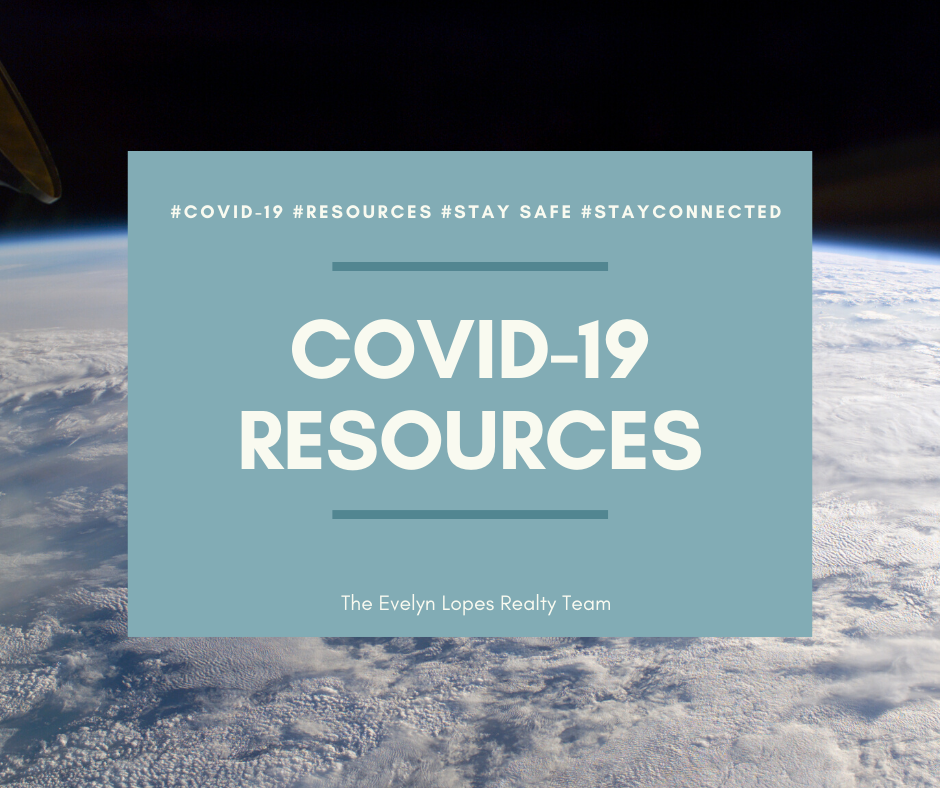 COVID-19 Important Resources
Hello,
We are in an extraordinary time. COVID-19 has affected each and everyone of us.
In an attempt to cut through all the information that we have been bombarded with on social media posts and online, we have compiled a list of important government and official website resources that are available to help you clarify and answer any questions that you may have regarding COVID-19.
We hope that you and your loved ones are safe.
Evelyn Lopes Realty Team
COVID-19 Information Links
ALL ABOUT COVID-19 - CANADA.CA WEBSITE- Updates_Prevention_Symptoms_etc

https://www.canada.ca/en/public-health/services/diseases/coronavirus-disease-covid-19.html

COVID-19 LIVE WORLD MAP TRACKER - MICROSOFT BING

https://bing.com/covid?form=COVD07

TELEHEALTH ONTARIO - PROVINCIAL WEBSITE - SELF ASSESSMENT
(SCROLL TO TOP OF PAGE)
https://www.ontario.ca/page/2019-novel-coronavirus#section-12
EXTENSION OF INCOME TAX FILING DATE - NOW JUNE 1ST - TAXPAYERS DUE DATE AUGUST 31ST
https://www.canada.ca/en/services/taxes/income-tax.html
ONTARIO's ACTION PLAN:Responding to COVID-19
https://news.ontario.ca/mof/en/2020/3/ontarios-action-plan-responding-to-covid-19.html
GOVERNMENT EI SICKNESS BENEFITS - PERSONAL & BUSINESS
https://www.canada.ca/en/department-finance/economic-response-plan.html
ONTARIO GOVERNMENT LAUNCHES ONLINE PROGRAM FOR STUDENTS OUT OF SCHOOL - LEARN FROM HOME PROGRAM
https://www.ontario.ca/page/learn-at-home
HOW YOUR BUSINESS/ORGANIZATION CAN HELP FIGHT COVID-19https://www.ontario.ca/page/how-your-organization-can-help-fight-coronavirus
LIST OF ESSENTIAL WORKPLACES TO REMAIN OPEN
https://www.ontario.ca/page/list-essential-workplaces
GOVERNMENT INTRODUCES CANADA EMERGENCY RESPONSE BENEFIT TO HELP WORKERS & BUSINESSES
https://www.canada.ca/en/department-finance/news/2020/03/introduces-canada-emergency-response-benefit-to-help-workers-and-businesses.html
DIRECTORY OF PHONE NUMBERS FOR BANKS TO DEFER YOUR PAYMENTS ON MORTGAGES, LINE OF CREDIT, CAR LOANS & CREDIT CARDS
*Please be aware of potential interest charged for these Deferral Programs provided by the Banks. Remember to ask the appropriate questions when inquiring about these programs and educate yourself on the pros & cons before proceeding.*
**Find this recent article posted in The Toronto Star By
Marco Chown Oved
Staff Reporter
Mon., March 23, 2020 on the topic by clicking here:
https://www.thestar.com/business/2020/03/23/mortgage-loan-relief-could-end-up-costing-you-thousands-more-as-big-banks-continue-to-charge-interest.html
B2B 1-800-263-8349
BMO 1-877-895-3278
CIBC 1-800-465-2422
CMLS 1-888-995-2657
EQUITABLE BANK 1-888-334-3313
FIRST NATIONAL 1-888-488-0794
HOME TRUST - 1-855-270-3630
HSBC 1-888-310-4722
MANULIFE 1-877-765-2265
MARATHON 1-855-503-6060
MCAP 1-800-265-2624
MERIX 1-877-637-4911
OPTIMUM 1-866-441-3775
RBC 1-866-809-5800
RMG 1-866-809-5800
SCOTIA BANK 1-800-472-6842
STREET CAPITAL (RFA) 1-866-939-5005
TD BANK 1-888-720-0075
PROPERTY TAX RELIEF PROGRAMS
BRAMPTON INTERIM PROPERTY TAX DEFERRAL PROGRAM

https://www.brampton.ca/EN/residents/Taxes-Assessment/taxation/Pages/payment-options.aspx

CALEDON INTERIM PROPERTY TAX DEFERRAL PROGRAM

https://www.caledon.ca/en/townhall/property-tax.asp

MISSISSAUGA INTERIM PROPERTY TAX DEFERRAL PROGRAM

https://web.mississauga.ca/wp-content/uploads/2020/03/25160850/Fact-Sheet-Tax-Deferral-March-251.pdf

ORANGEVILLE INTERIM PROPERTY TAX DEFERRAL PROGRAM & Other Prgrams
https://www.orangeville.ca/2019-novel-coronavirus-covid-19
SHELBURNE INTERIM PROPERTY TAX DEFERRAL PROGRAM
https://www.shelburne.ca/en/town-hall/taxes.aspx
UTLILITY RELIEF PROGRAMSPROVINCE OF ONTARIO The Province of Ontario has suspended time-of-use rates for 45 days effective March 24, 2020.
Electricity rates during this time will be held to the off-peak rate of 10.1 cents per kilowatt hour 24 hours a day, 7 days a week. For further information
https://news.ontario.ca/opo/en/2020/03/ontario-providing-electricity-relief-to-families-small-businesses-and-farms-during-covid-19.html

HYDRO ONE Pandemic Relief Fund
https://www.hydroone.com/savingmoneyandenergy_/financialassistanceforresidents_/Pages/Relief-Fund.aspx
UNION/EMBRIDGE GAS -Energy Assistance Program
https://www.uniongas.com/about-us/community/energy-assistance-program

FEDERAL GOVERNMENT MEASURES TO HELP BUSINESS WEATHER COVID-19 PANDEMIC
https://pm.gc.ca/en/news/news-releases/2020/03/27/prime-minister-announces-support-small-businesses-facing-impacts


Updated daily to keep you informed:)